France holiday lets Quercy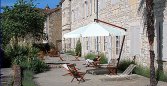 A manor at the court of Quercy, in center village, Montpezat-of-Quercy, typical and authentic. Turned towards the countryside, calms it astonishes with two steps by the village life.
This residence in charge of history mixes a contemporary restoration with old materials. The roomy and comfortable rooms are arranged pieces of furniture clouded in the area but also of modern pieces of furniture, milked union between the times. The show and the dining room offer an astonishing space; these parts are an invitation with the relaxation.
The tourist activity is of a surprising richness, prehistoric villages, museums, cloisters, abbeys, caves, nautical throats, bases, festivals, sports activities without forgetting the gastronomy.
France holiday lets Quercy